Brand New Testo 103 - Penetration thermometer Order-Nr. 0560 0103 Temperature measurement with very good discount and warranty
New & Original
103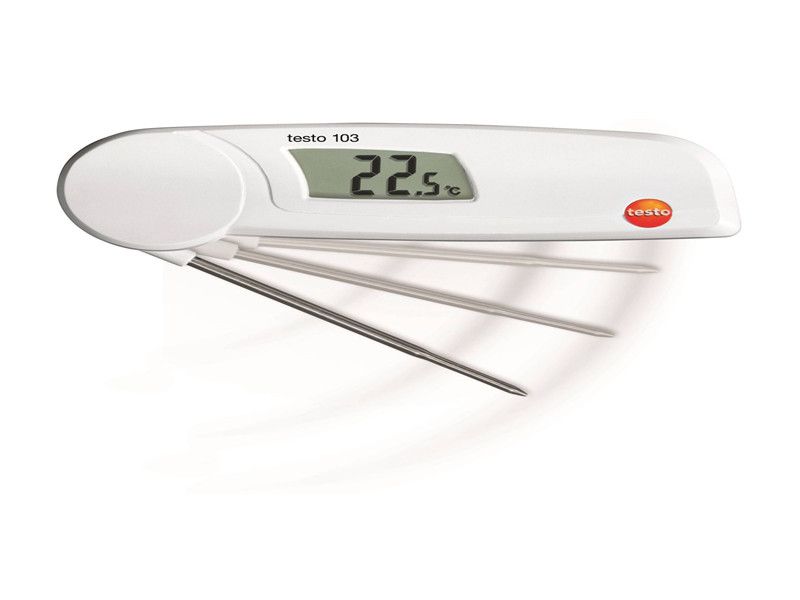 testo 103 - Penetration thermometer
Order-Nr. 0560 0103
Ideal for use with food: HACCP compliant, certified according to EN 13485

Splash water protected – IP55 rated

Practical folding mechanism – for quick 'n easy measuring; fits in any shirt or trouser pocket

Easy-to-use, high-precision technology
The testo 103 penetration thermometer is a particularly small folding thermometer – ideal for spot check measurements in the food sector.
Product Description
The testo 103 food thermometer is just a little over 11 cm long, which makes it the smallest folding food probe thermometer in its class.
It fact, it's so small it fits in any shirt or trouser pocket, so it's always with you when you need it. And because the probe can be folded away when it's not in use,
there's no need to worry that it might break off or cause any harm or damage.
The testo 103 food thermometer – ideal for food safety inspections
The testo 103 food probe thermometer can be used everywhere where food is sold, stored or processed. It is ideal for checking incoming goods, catering services,
canteens and commercial kitchens, as well as cold storage rooms and supermarkets, and for ensuring that temperatures are kept and quality and hygiene standards are met.
The food thermometer's especially thin but nonetheless rugged sensor tip makes it ideal for carrying out spot checks on liquid and semi-solid media where it leaves virtually no trace.
It can also measure the core temperature of foodstuffs when the probe has been folded out at an angle of only 30°. This is particularly convenient – and often necessary –
as it is not always possible to carry out measurements at an angle of 180° when checking food in certain storage spaces or when it is piled high in boxes or on display.
When you have finished carrying out your checks, simply fold the probe away and pop the thermometer back into your pocket until you need it again.
The testo 103 food probe thermometer is not only HACCP compliant and EN 13485 certified but also splash water protected making it ideal for use in the food sector.
Technical Data :
Temperature - NTC

Measuring range

-30 to +220 °C

Accuracy

±0.5 °C (-30 to +99.9 °C)

±1.0 % of mv (+100 to +220 °C)

Resolution

0.1 °C

Reaction time

10 s (Measured in moving liquid)
General technical data

Weight

46 g (including battery)

Dimensions

189 x 35 x 19 mm (probe folded out)

115 x 35 x 19 mm (probe folded away)

Operating temperature

-20 to +60 °C

Product-/housing material

ABS

Protection class

IP55

Product colour

white

Length probe shaft

75 mm

Length probe shaft tip

22 mm

Diameter probe shaft

3 mm

Diameter probe shaft tip

2.3 mm

Measuring rate

0.5 s

Switch on/off

With folding mechanism (approx. 30°) / Auto off after 60 mins.

Standards

EN 13485

Battery type

2 lithium batteries (CR2032)

Battery life

300 h (at +25 °C)

Display type

LCD (Liquid Crystal Display)

Display size

one-line

Display ligthing

non-illuminated

Storage temperature

-30 to +70 °C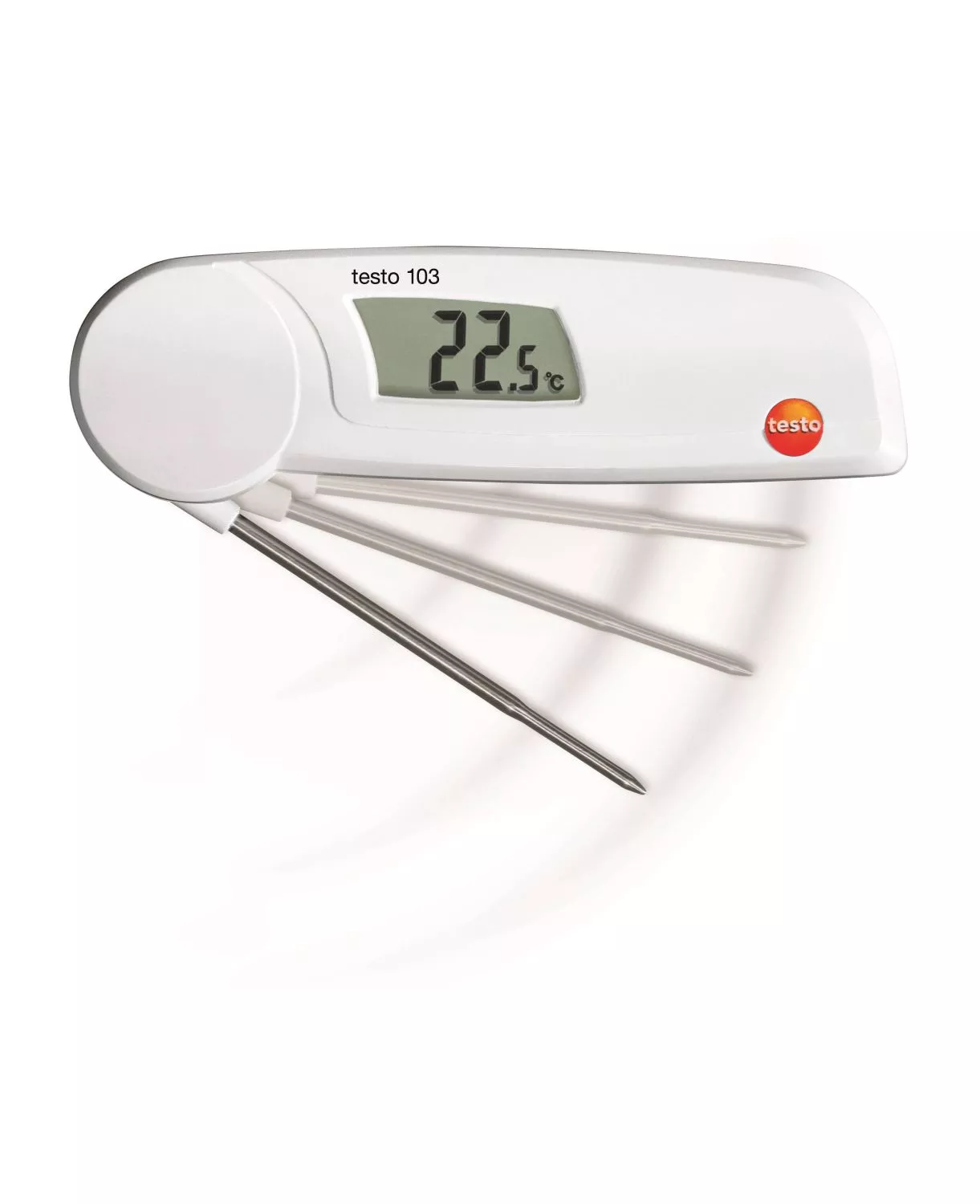 testo 830-T4 - Infrared thermometer
testo 805 i - infrared thermometer with smartphone operation
testo 826-T2 - Infrared thermometer
testo 831 - Infrared thermometer
testo 835-T1 - Infrared thermometer
testo 835-T2 - Infrared thermometer
testo 835-H1 - Infrared thermometer plus moisture measuring
testo 805 - Infrared thermometer with protective case
testo 805 - infrared thermometer
testo 830-T2 kit - Infrared thermometer
Set testo 830-T4 - Infrared thermometer
Set with testo 831 and testo 106 infrared thermometer
testo 926 - Temperature meter
Testo TopSafe protective case
testo 270 - Cooking oil tester
testo 104-IR - Food safety thermometer
testo 206-pH2 - pH meter
testo 810 - Infrared thermometer
testo Smart Probes AC & refrigeration test kit plus
testo 115i - Clamp thermometer operated via smartphone
testo 549i - High-pressure gauge operated via smartphone
testo 605i - Thermohygrometer operated via smartphone
testo 905-T2 - Surface thermometer with large measuring range
testo Mini surface thermometer
testo 925 - temperature measuring instrument
testo 110 - Temperature meter
testo 922 - Digital temperature meter
testo 735-2 - Multichannel thermometer
testo 720 - Temperature meter
testo 735-1 - Temperature measuring instrument (3-channel)
testo 112 highly accurate temperature measuring instrument - with PTB approval
testo 635-2 U-value promo set - thermohygrometer set
testo 922 Heating constructors' Promo set - Heating constructors' Promo set
testo 922 HVAC/R Set - temperature measuring instrument
Testo Pipe wrap probe with NTC temperature sensor - For measurements on pipes (? 5-65 mm)
Testo Fast-action surface probe (TC type K)
Testo Waterproof mini probe thermometer
Testo Mini penetration thermometer
testo 905-T1 - penetration thermometer (large measuring range)
testo 905 i - thermometer with smartphone operation
testo Smart Probes heating kit
Testo Mini alarm thermometer
Testo Mini penetration thermometer with extended probe shaft
testo 106 kit - Food thermometer
testo 104 - Waterproof food thermometer
testo 108 - Digital food thermometer
testo 105 - One-hand thermometer with standard measuring tip
testo 105 - One-hand thermometer with frozen goods measuring tip
testo 108-2 - Temperature measuring instrument with lockable probe
Testo Food inspection kit
testo 826-T4 - Penetration infrared thermometer
testo 103 - Penetration thermometer