Brand New Testo 826-T4 - Penetration infrared thermometer Order-Nr. 0563 8284 Temperature measurement In Stock with good rate
New & Original
826-T4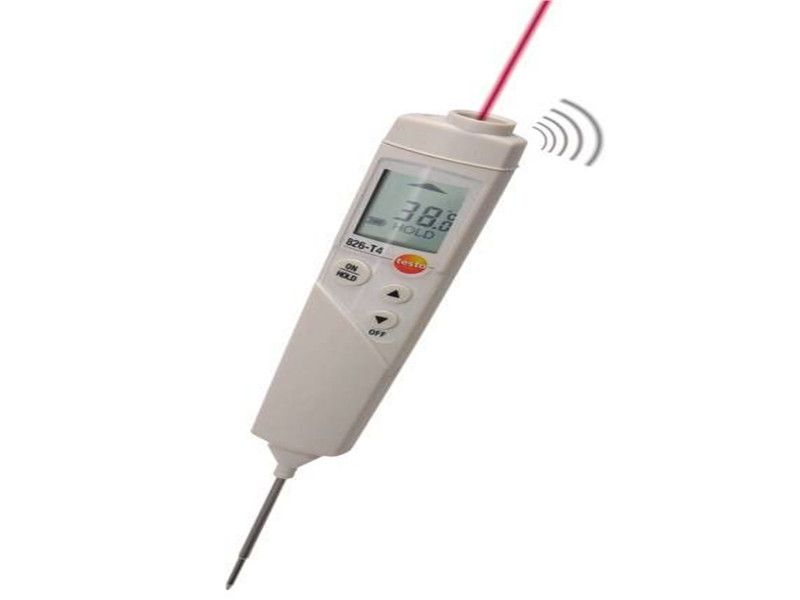 Testo 826-T4 - Penetration infrared thermometer
Order-Nr. 0563 8284
Infrared and core temperature measurements in one measuring instrument

Infrared thermometer with 6:1 optics and 1 point laser measurement spot marker

Easy limit value monitoring with the min./max. function; immediate alarm when limit values are exceeded

Watertight and robust thanks to the TopSafe protective case (in scope of delivery)
During food controls in Incoming Goods, you regularly check the temperature of your goods. The testo 826-T4 penetration infrared thermometer allows quick temperature
scans by means of infrared measurement without damaging the products. If temperature limit values are exceeded,
the permanently attached penetration probe can be used to take accurate core temperature measurements (e.g. in yoghurts).
Product Description
Temperature checks of products and goods pallets are not only mandatory for incoming and outgoing goods, but also for the food manufacturing sector.
With the testo 826-T4 penetration infrared thermometer you will have an HACCP-compliant and EN 13485-certified measuring instrument to hand which easily fulfils the HACCP regulations.
Technical Data :
Temperature - NTC

Measuring range

-50 to +230 °C

Accuracy

±0.5 °C (-20 to +99.9 °C)

±1 °C or 1 % of mv (Remaining Range)

Resolution

0.1 °C

Measuring rate

1.25 s
Temperature - Infrared

Measuring range

-50 to +300 °C

Accuracy

±1.5 °C (-20 to +100 °C)

±2 °C or 2 % of mv (Remaining Range)

Measuring rate

0.5 s

Infrared resolution

0.1 °C
General technical data

Dimensions

148 x 34.4 x 19 mm

Operating temperature

-20 to +50 °C

Standards

EN 13485

Battery type

2 AAA micro batteries

Battery life

Approx. 20 h

Display type

LCD

Display size

one-line

Storage temperature

-40 to +70 °C

Weight

80 g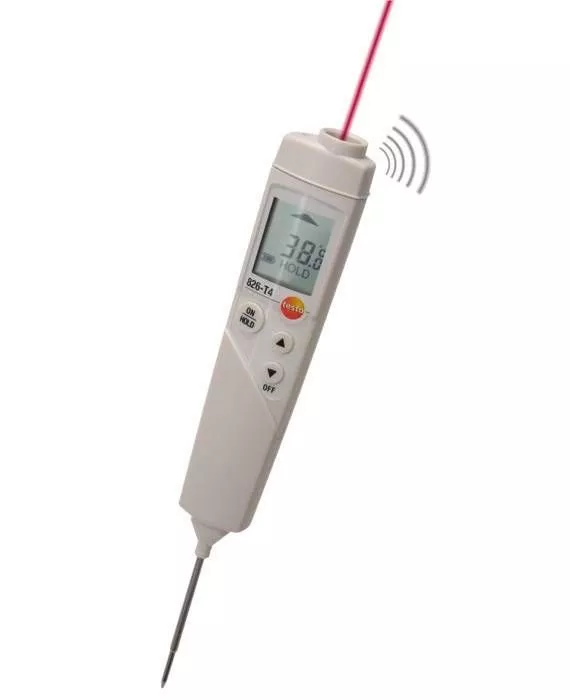 testo 830-T4 - Infrared thermometer
testo 805 i - infrared thermometer with smartphone operation
testo 826-T2 - Infrared thermometer
testo 831 - Infrared thermometer
testo 835-T1 - Infrared thermometer
testo 835-T2 - Infrared thermometer
testo 835-H1 - Infrared thermometer plus moisture measuring
testo 805 - Infrared thermometer with protective case
testo 805 - infrared thermometer
testo 830-T2 kit - Infrared thermometer
Set testo 830-T4 - Infrared thermometer
Set with testo 831 and testo 106 infrared thermometer
testo 926 - Temperature meter
Testo TopSafe protective case
testo 270 - Cooking oil tester
testo 104-IR - Food safety thermometer
testo 206-pH2 - pH meter
testo 810 - Infrared thermometer
testo Smart Probes AC & refrigeration test kit plus
testo 115i - Clamp thermometer operated via smartphone
testo 549i - High-pressure gauge operated via smartphone
testo 605i - Thermohygrometer operated via smartphone
testo 905-T2 - Surface thermometer with large measuring range
testo Mini surface thermometer
testo 925 - temperature measuring instrument
testo 110 - Temperature meter
testo 922 - Digital temperature meter
testo 735-2 - Multichannel thermometer
testo 720 - Temperature meter
testo 735-1 - Temperature measuring instrument (3-channel)
testo 112 highly accurate temperature measuring instrument - with PTB approval
testo 635-2 U-value promo set - thermohygrometer set
testo 922 Heating constructors' Promo set - Heating constructors' Promo set
testo 922 HVAC/R Set - temperature measuring instrument
Testo Pipe wrap probe with NTC temperature sensor - For measurements on pipes (? 5-65 mm)
Testo Fast-action surface probe (TC type K)
Testo Waterproof mini probe thermometer
Testo Mini penetration thermometer
testo 905-T1 - penetration thermometer (large measuring range)
testo 905 i - thermometer with smartphone operation
testo Smart Probes heating kit
Testo Mini alarm thermometer
Testo Mini penetration thermometer with extended probe shaft
testo 106 kit - Food thermometer
testo 104 - Waterproof food thermometer
testo 108 - Digital food thermometer
testo 105 - One-hand thermometer with standard measuring tip
testo 105 - One-hand thermometer with frozen goods measuring tip
testo 108-2 - Temperature measuring instrument with lockable probe
Testo Food inspection kit
Testo 826-T4 - Penetration infrared thermometer