New & Original in stock Testo 905 i - thermometer with smartphone operation Order-Nr. 0560 1905 competitive price on sale
New & Original
905 i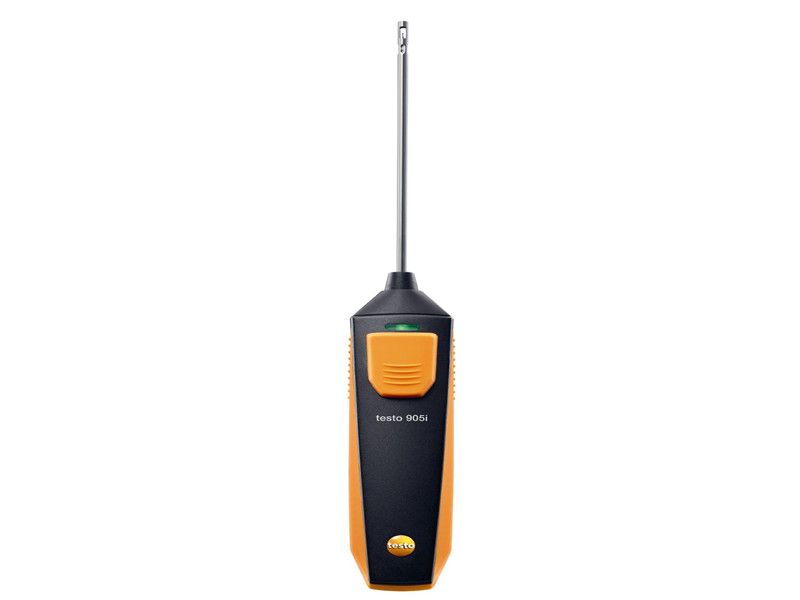 Testo 905 i - thermometer with smartphone operation
Order-Nr. 0560 1905
Rapid detection of temperature change via graphical progress display

Measuring range -50 to +150 °C

Measurement data analyzed and sent via testo Smart Probes App
Check ambient temperatures and temperatures in ducts and at air outlets quickly, easily and professionally:
with the testo 905i thermometer, which is optimized for your smartphone, nothing could be simpler.
Product Description

The compact testo 905i professional thermometer, in conjunction with a smartphone or tablet, is ideal for measuring ambient temperature as well as temperatures in ducts and at air outlets.

Instant overview of all temperature changes
The innovative Testo measuring technology can be connected to your own smartphone or tablet really easily: with the testo Smart Probes
App installed on your terminal device, you can view your readings conveniently. All measurement data is displayed
either as a chart or in table form, and can be logged and then emailed directly as a PDF or Excel file.


System requirements:

iOS 8.3 or later

Android 4.3 or later

Bluetooth 4.0
Technical Data :
Temperature - TC Type K (NiCr-Ni)

Measuring range

-50 to +150 °C

Accuracy

±1 °C

Resolution

0.1 °C
General technical data

Weight

82.2 g

Dimensions

222 x 30 x 24 mm

Operating temperature

-20 to +50 °C

Product-/housing material

Plastic

System requirements

requires iOS 8.3 or newer; requires Android 4.3 or newer; requires mobile end device with Bluetooth 4.0

Product colour

black/orange

Battery type

3 AAA micro batteries

Battery life

150 h

Length probe shaft

100 mm

Storage temperature

-20 to +60 °C
testo 830-T4 - Infrared thermometer
testo 805 i - infrared thermometer with smartphone operation
testo 826-T2 - Infrared thermometer
testo 831 - Infrared thermometer
testo 835-T1 - Infrared thermometer
testo 835-T2 - Infrared thermometer
testo 835-H1 - Infrared thermometer plus moisture measuring
testo 805 - Infrared thermometer with protective case
testo 805 - infrared thermometer
testo 830-T2 kit - Infrared thermometer
Set testo 830-T4 - Infrared thermometer
Set with testo 831 and testo 106 infrared thermometer
testo 926 - Temperature meter
Testo TopSafe protective case
testo 270 - Cooking oil tester
testo 104-IR - Food safety thermometer
testo 206-pH2 - pH meter
testo 810 - Infrared thermometer
testo Smart Probes AC & refrigeration test kit plus
testo 115i - Clamp thermometer operated via smartphone
testo 549i - High-pressure gauge operated via smartphone
testo 605i - Thermohygrometer operated via smartphone
testo 905-T2 - Surface thermometer with large measuring range
testo Mini surface thermometer
testo 925 - temperature measuring instrument
testo 110 - Temperature meter
testo 922 - Digital temperature meter
testo 735-2 - Multichannel thermometer
testo 720 - Temperature meter
testo 735-1 - Temperature measuring instrument (3-channel)
testo 112 highly accurate temperature measuring instrument - with PTB approval
testo 635-2 U-value promo set - thermohygrometer set
testo 922 Heating constructors' Promo set - Heating constructors' Promo set
testo 922 HVAC/R Set - temperature measuring instrument
Testo Pipe wrap probe with NTC temperature sensor - For measurements on pipes (? 5-65 mm)
Testo Fast-action surface probe (TC type K)
Testo Waterproof mini probe thermometer
Testo Mini penetration thermometer
testo 905-T1 - penetration thermometer (large measuring range)
testo 905 i - thermometer with smartphone operation