Brand New Testo 905-T1 - penetration thermometer (large measuring range) Order-Nr. 0560 9055 Very good Price on sale
New & Original
905-T1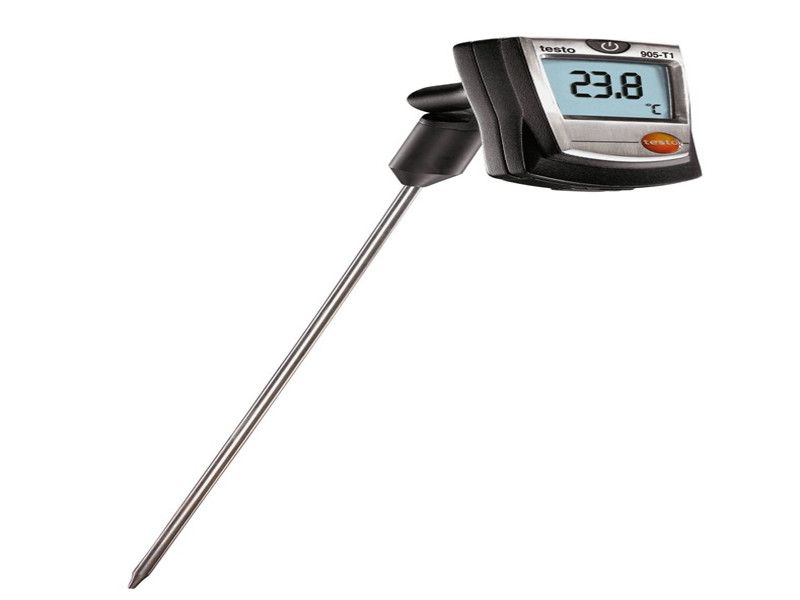 Testo 905-T1 - penetration thermometer (large measuring range)
Order-Nr. 0560 9055
emperature measurements up to +500°C possible for a short time

Measuring values easy to read off thanks to a pivoting display

Quick response time

Long, pointed thermocouple probe: ideal for measurements in liquids, soft or powdery substances and in the air
The testo 905-T1 penetration thermometer enables reliable temperature measurements in liquids, soft or powdery substances and in the air. In doing so,
it is the temperature measuring instrument's large measuring range and its short response time that make it stand out. Both advantages are due to the high-quality type K thermocouple probe.
Product Description
The testo 905-T1 penetration thermometer has a large measuring range from -50 to +350°C and can even measure up to +500°C for a short time (1 to 2 minutes).
Its permanently integrated type K thermocouple probe makes this possible. In addition, the penetration thermometer is characterized by its short response time.
The thermocouple probe reacts very quickly, particularly in water (or other liquids).
The penetration thermometer is therefore ideally suited for measurements in fluid substances in laboratory, chemical and pharmaceutical areas.
However, as well as immersion/penetration of the long, pointed probe shaft in liquids and soft or powdery substances being possible,
you can also insert it in ventilation ducts to measure the temperature there.
The penetration thermometer is also a winner when it comes to accuracy, because it achieves a higher level than typical comparable models.
A really user-friendly penetration thermometer
The testo 905-T1 penetration thermometer is easy to use and very user-friendly. The measuring values are shown very legibly on the display.
The fact that the display can be pivoted also makes readout easier. This is particularly practical, since it means the measuring values can be read off perfectly from many different perspectives.
Temperature

Measuring range

-50 to +350 °C (short-term to +500 °C)

Accuracy

±1 °C (-50 to +99.9 °C)

±1 % of mv (Remaining Range)

Resolution

0.1 °C

Reaction time

t99 = 10 s (in water)
General technical data

Dimensions

270 x 40 x 70 mm (LxWxH)

Operating temperature

0 to +40 °C

Product-/housing material

ABS

Product colour

Black

Authorizations

CE 2014/30/EU

Length probe shaft

200 mm

Length probe shaft tip

4 mm

Diameter probe shaft

3 mm

Battery type

3 AAA micro batteries

Battery life

1000 h

Display type

LCD (Liquid Crystal Display)

Display size

one-line

Storage temperature

-20 to +70 °C

Weight

80 g
testo 830-T4 - Infrared thermometer
testo 805 i - infrared thermometer with smartphone operation
testo 826-T2 - Infrared thermometer
testo 831 - Infrared thermometer
testo 835-T1 - Infrared thermometer
testo 835-T2 - Infrared thermometer
testo 835-H1 - Infrared thermometer plus moisture measuring
testo 805 - Infrared thermometer with protective case
testo 805 - infrared thermometer
testo 830-T2 kit - Infrared thermometer
Set testo 830-T4 - Infrared thermometer
Set with testo 831 and testo 106 infrared thermometer
testo 926 - Temperature meter
Testo TopSafe protective case
testo 270 - Cooking oil tester
testo 104-IR - Food safety thermometer
testo 206-pH2 - pH meter
testo 810 - Infrared thermometer
testo Smart Probes AC & refrigeration test kit plus
testo 115i - Clamp thermometer operated via smartphone
testo 549i - High-pressure gauge operated via smartphone
testo 605i - Thermohygrometer operated via smartphone
testo 905-T2 - Surface thermometer with large measuring range
testo Mini surface thermometer
testo 925 - temperature measuring instrument
testo 110 - Temperature meter
testo 922 - Digital temperature meter
testo 735-2 - Multichannel thermometer
testo 720 - Temperature meter
testo 735-1 - Temperature measuring instrument (3-channel)
testo 112 highly accurate temperature measuring instrument - with PTB approval
testo 635-2 U-value promo set - thermohygrometer set
testo 922 Heating constructors' Promo set - Heating constructors' Promo set
testo 922 HVAC/R Set - temperature measuring instrument
Testo Pipe wrap probe with NTC temperature sensor - For measurements on pipes (? 5-65 mm)
Testo Fast-action surface probe (TC type K)
Testo Waterproof mini probe thermometer
Testo Mini penetration thermometer
testo 905-T1 - penetration thermometer (large measuring range)