In Stock Testo 922 Heating constructors' Promo set - Heating constructors' Promo set Order-Nr. 0563 9221 New & Original
New & Original
922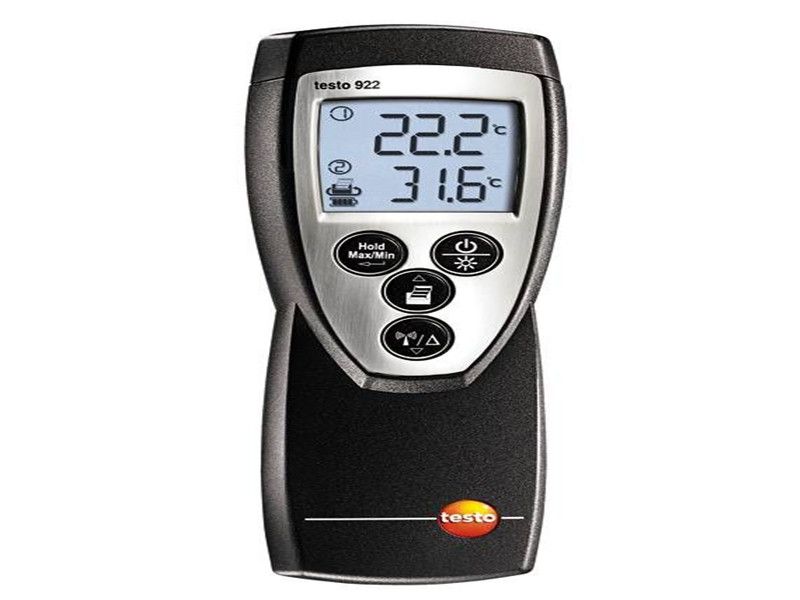 Testo 922 Heating constructors' Promo set - Heating constructors' Promo set
Order-Nr. 0563 9221
2-channel measuring instrument with optional radio probe

Displays differential temperature

Continuous display of max/min values

TopSafe, indestructible case, protects from dirt and impact (option)
Heating constructors' Promo set testo 922 incl. testo 922, 2 x pipe wrap probe and transport case
Product Description
testo 922, 2 channel temperature measuring instrument T/C Type K, connection of an optional radio probe, with battery and calibration protocol

testo 922 is a temperature measuring instrument which is especially suited to applications in the HVAC field.
The measuring instrument records the temperature values of two connected thermocouple probes, and shows these simultaneously together with the differential temperature in the display. Measurement data transfer by radio additionally allows the measurement value from a further temperature probe to be displayed wirelessly.

With the TopSafe, and the probe plugged in, the measuring instrument has protection class IP65.

The instrument continuously displays the minimum and maximum values. The measurement values shown in the display (current measurement value, fixed measurement value or the minimum/maximum value) can be printed out on site using the Testo report printer (optional). In addiition to this, the measurement values can be cyclically printed – the intervals can be individually set.
Temperature - TC Type K (NiCr-Ni)

Measuring range

-50 to +1000 °C

Accuracy

±(0.5 °C + 0.3 % of mv) (-40 to +900 °C)

±(0.7 °C + 0.5 % of mv) (Remaining Range)

±0.1 °C (-50 to +199.9 °C

Resolution

1 °C (Remaining Range)
General technical data

Dimensions

182 x 64 x 40 mm

Operating temperature

-20 to +50 °C

Housing

ABS

Number of channels

2-channel

Battery type

9V block battery, 6F22

Battery life

200 h (connected probe, backlight off); 45 h (radio mode, backlight off); 68 h (connected probe, backlight always on);

33 h (radio mode, backlight always on)

Storage temperature

-40 to +70 °C

Weight

171 g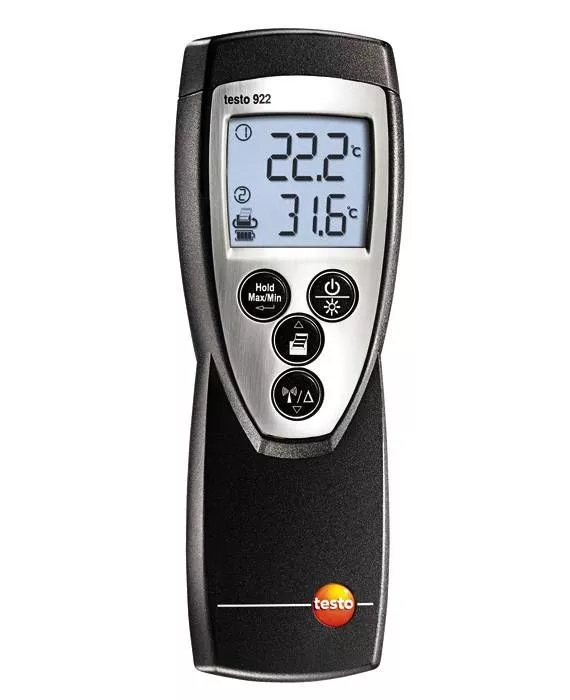 testo 830-T4 - Infrared thermometer
testo 805 i - infrared thermometer with smartphone operation
testo 826-T2 - Infrared thermometer
testo 831 - Infrared thermometer
testo 835-T1 - Infrared thermometer
testo 835-T2 - Infrared thermometer
testo 835-H1 - Infrared thermometer plus moisture measuring
testo 805 - Infrared thermometer with protective case
testo 805 - infrared thermometer
testo 830-T2 kit - Infrared thermometer
Set testo 830-T4 - Infrared thermometer
Set with testo 831 and testo 106 infrared thermometer
testo 926 - Temperature meter
Testo TopSafe protective case
testo 270 - Cooking oil tester
testo 104-IR - Food safety thermometer
testo 206-pH2 - pH meter
testo 810 - Infrared thermometer
testo Smart Probes AC & refrigeration test kit plus
testo 115i - Clamp thermometer operated via smartphone
testo 549i - High-pressure gauge operated via smartphone
testo 605i - Thermohygrometer operated via smartphone
testo 905-T2 - Surface thermometer with large measuring range
testo Mini surface thermometer
testo 925 - temperature measuring instrument
testo 110 - Temperature meter
testo 922 - Digital temperature meter
testo 735-2 - Multichannel thermometer
testo 720 - Temperature meter
testo 735-1 - Temperature measuring instrument (3-channel)
testo 112 highly accurate temperature measuring instrument - with PTB approval
testo 635-2 U-value promo set - thermohygrometer set
testo 922 Heating constructors' Promo set - Heating constructors' Promo set