In Stock Testo 735-2 - Multichannel thermometer Order-Nr. 0563 7352 New & Original With very Competitive price
New & Original
735-2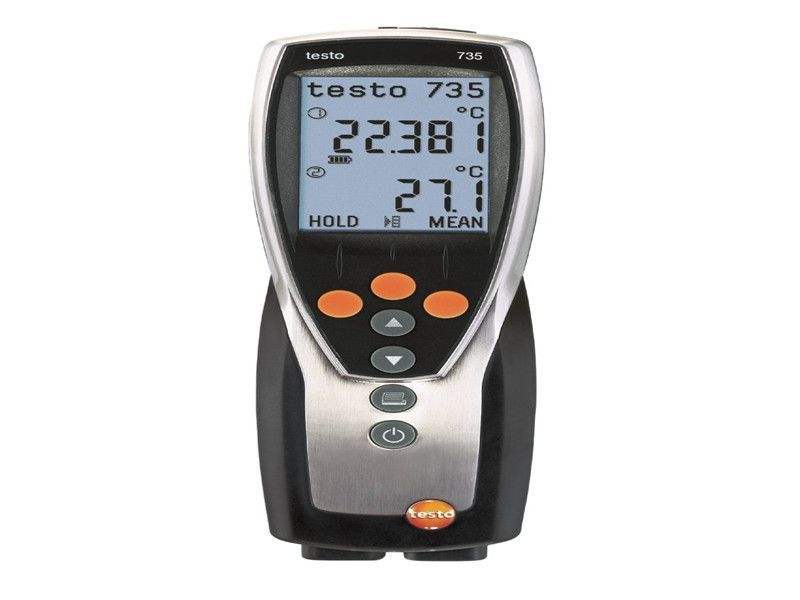 Testo 735-2 - Multichannel thermometer
Order-Nr. 0563 7352
Up to 3 connectable sensors and a further 3 temperature sensors which can be connected wirelessly to the meter


Super-size memory for up to 10 000 readings; PC software and USB cable included

Extremely accurate sensor (optional) for a system accuracy of up to 0.05 °C

Waterproof (IP65) and HACCP / EN 13485 compliant
Calibration of static temperature sensors, temperature measurements in the cosmetics industry, chemical laboratories, the field of cooling and refrigeration technology,
the food industry: the testo 735-2 multichannel thermometer can master virtually any application thanks to a wide range of optionally available sensors, a super-size memory and wireless data transfer.
Product Description
The testo 735-2 digital multichannel thermometer is used in a wide variety of different fields. This hardly comes as a surprise really considering it can measure the surface,
air and core temperature of a whole range of media with an accuracy up to 0.05 °C using high-precision Pt immersion/penetration sensors.
And because it can be wirelessly connected to up to another three external temperature sensors, whose readings are then transmitted to the display, what you end up getting is not a 3 but a 6-channel meter !
Wide selection of sensors, precise measuring results on up to 6 channels
The testo 735-2 multichannel thermometer has a sensor connecting point for a highly-accurate Pt100 sensor and two connecting points for quick type K, T, J and S thermoelement sensors.
All in all 6 sensors, 3 of them wireless temperature sensors, can be connected to the meter and shown on the display.
There is a wide selection of immersion, penetration and surface sensors available to help you carry out quick and accurate temperature measurements on a variety of different surfaces and media.
The high-precision, optionally available Pt100 immersion/penetration sensor has a system accuracy of 0.05 °C and a resolution of 0.001 °C. The testo 735-2 temperature meter is therefore ideal for use as working standard.

Measure, save and analyze temperature measurements – for different user profiles
The testo 735-2 digital multichannel thermometer not only allows you to carry out quick and precise temperature measurements, it also allows you to save up to 10 000 readings,
create as many as 99 measuring sites and provide multiple user profiles.
In addition, you can save individual protocols or measurement series for the each measuring site and select from a memory cycle of between 0.5 seconds and 24 hours.
The PC software in the package allows you to save and analyze the measuring data as a table or graphic.
And last but by no means least, the optionally available, wirelessly connected testo fast printer can be used to provide you and your customers with on-the-spot data print outs.
The testo 735-2 multichannel thermometer isn't just precise, it's practical too
The testo 735-2 can provide you with Delta T, minimum, maximum and mean values and present them on a backlit display which makes them easier to read in dark environments and poor lighting conditions.
Furthermore, it has an acoustic alarm that is triggered when thresholds are exceeded and is not only waterproof and IP65 rated but also EN 13485 certified,
HACCP compliant and HACCP International certified too.
Temperature - Pt100

Measuring range

-200 to +800 °C

Accuracy

±0.2 °C (-100 to +199.9 °C)

±0.2 % of mv (Remaining Range)

Resolution

0.05 °C
Temperature - TC Type K (NiCr-Ni)

Measuring range

-200 to +1370 °C

Accuracy

±0.3 °C (-60 to +60 °C)

±(0.2 °C + 0.3 % of mv) (Remaining Range)

Resolution

0.1 °C
Temperature - TC Type T (Cu-CuNi)

Measuring range

-200 to +400 °C

Accuracy

±0.3 °C (-60 to +60 °C)

±(0.2 °C + 0.3 % of mv) (Remaining Range)

Resolution

0.1 °C
Temperature - TC Type J (Fe-CuNi)

Measuring range

-200 to +1000 °C

Accuracy

±0.3 °C (-60 to +60 °C)

±(0.2 °C + 0.3 % of mv) (Remaining Range)

Resolution

0.1 °C
Temperature - TC Type S (Pt10Rh-Pt)

Measuring range

0 to +1760 °C

Accuracy

±1 °C (0 to +1760 °C)

Resolution

1 °C
General technical data

Dimensions

220 x 74 x 46 mm

Operating temperature

-20 to +50 °C

Product-/housing material

ABS / TPE / Metal

Protection class

IP65

Standards

EN 13485

Battery type

Alkali manganese, mignon, type AA

Storage temperature

-30 to +70 °C

Weight

428 g

testo 805 i - infrared thermometer with smartphone operation
testo 826-T2 - Infrared thermometer
testo 831 - Infrared thermometer
testo 835-T1 - Infrared thermometer
testo 835-T2 - Infrared thermometer
testo 835-H1 - Infrared thermometer plus moisture measuring
testo 805 - Infrared thermometer with protective case
testo 805 - infrared thermometer
testo 830-T2 kit - Infrared thermometer
Set testo 830-T4 - Infrared thermometer
Set with testo 831 and testo 106 infrared thermometer
testo 926 - Temperature meter
Testo TopSafe protective case
testo 270 - Cooking oil tester
testo 104-IR - Food safety thermometer
testo 206-pH2 - pH meter
testo 810 - Infrared thermometer
testo Smart Probes AC & refrigeration test kit plus
testo 115i - Clamp thermometer operated via smartphone
testo 549i - High-pressure gauge operated via smartphone
testo 605i - Thermohygrometer operated via smartphone
testo 905-T2 - Surface thermometer with large measuring range
testo Mini surface thermometer
testo 925 - temperature measuring instrument
testo 110 - Temperature meter
testo 922 - Digital temperature meter
testo 735-2 - Multichannel thermometer