In Stock testo 905-T2 - Surface thermometer with large measuring range Order-Nr. 0560 9056 New & Original With Good Rate
New & Original
905-T2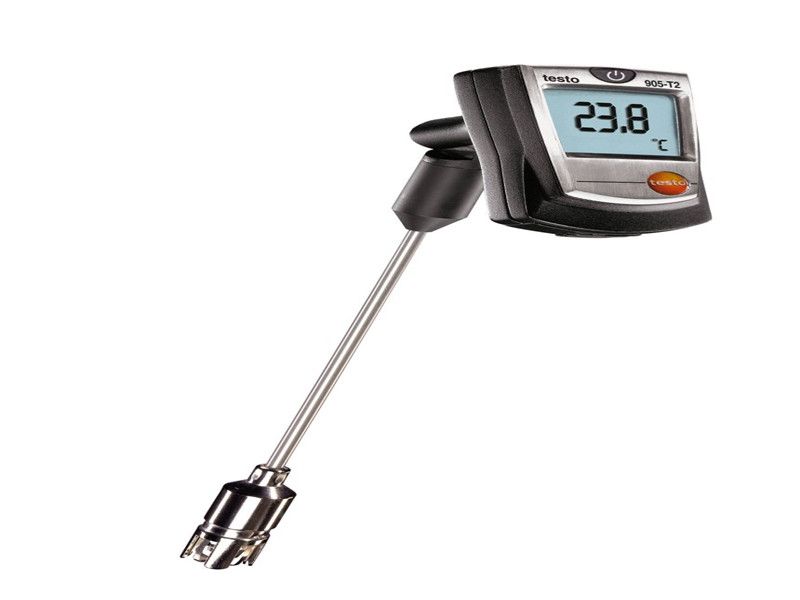 testo 905-T2 - Surface thermometer with large measuring range
Order-Nr. 0560 9056

* Suitable for measurements on uneven surfaces
* Large measuring range: Temperature measurements up to +500 °C possible for a short time
* Convenient reading of measurement results on the swivel display
* Extremely quick response time
The testo 905-T2 surface thermometer can measure the temperature reliably and impressively fast even on uneven surfaces.
Its measuring head with sprung thermocouple strip is what makes this possible.
This efficient temperature measuring instrument is therefore suitable for diverse applications in the heating, plumbing and refrigeration trade (e.g. measurements on pipes or valves).
Product Description
The testo 905-T2 surface thermometer provides you with the best piece of equipment for dealing with temperature measurements on both smooth and uneven surfaces.
This is because its temperature probe (type K thermocouple) features a measuring head with sprung thermocouple strip that adjusts to the surface.
This method prevents the temperature probe from tilting – and therefore false measurement results.

The testo 905-T2 surface thermometer also impresses with its large measuring range of -50 to +350 °C. Measurements of up to +500 °C are also possible for a short period (1 to 2 minutes).
Its large measuring range means that the temperature measuring instrument has many different uses, e.g. in the area of heating,
plumbing or refrigeration technology. The surface thermometer is particularly well suited to temperature measurements on pipes, as its thermocouple probe is easily able to deal with their uneven surfaces.

Extremely user-friendly surface thermometer
The testo 905-T2 surface thermometer is really easy to use: The measured values can be conveniently read from the clear display.
They are also easily legible from different angles. This is provided for by the display's swivel joint which can be constantly adjusted to your angle of vision.

If you forget to switch off the surface thermometer after measurement, it will automatically switch off after approx. 10 minutes of non-use.
Temperature

Measuring range

-50 to +350 °C (short-term to +500 °C)

Accuracy

±1 °C (-50 to +99.9 °C)

±1 % of mv (Remaining Range)

Resolution

0.1 °C

Reaction time

t99 = 5 s
General technical data

Dimensions

220 x 40 x 70 mm (LxWxH)

Operating temperature

0 to +40 °C

Product-/housing material

ABS

Product colour

Black

Authorizations

CE 2004/108/EWG

Length probe shaft

150 mm

Length probe shaft tip

40 mm

Diameter probe shaft

3 mm

Diameter probe shaft tip

12 mm

Battery type

3 AAA micro batteries

Battery life

1000 h

Display type

LCD (Liquid Crystal Display)

Display size

one-line

Storage temperature

-20 to +70 °C

Weight

80 g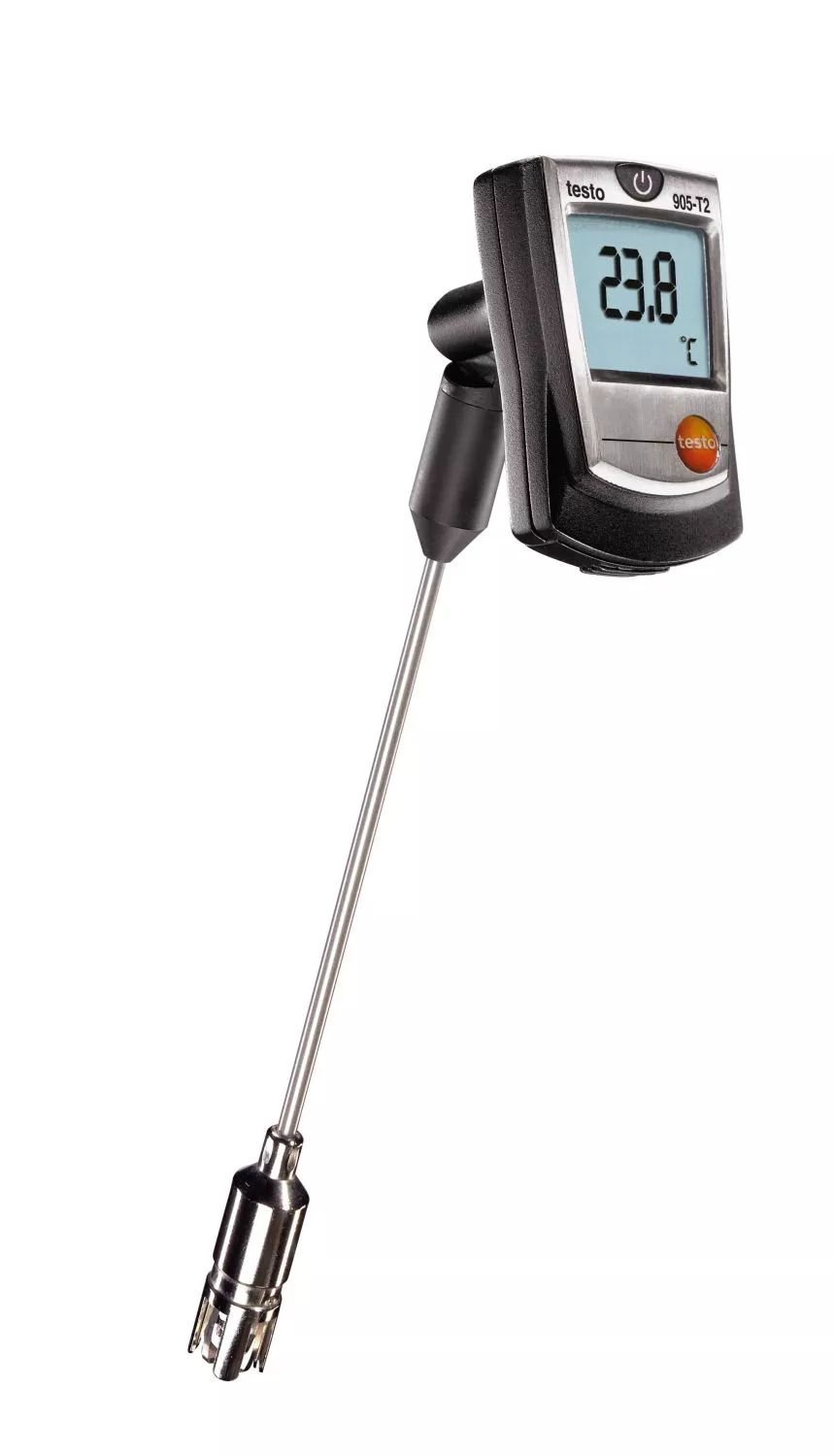 testo 830-T4 - Infrared thermometer
testo 805 i - infrared thermometer with smartphone operation
testo 826-T2 - Infrared thermometer
testo 831 - Infrared thermometer
testo 835-T1 - Infrared thermometer
testo 835-T2 - Infrared thermometer
testo 835-H1 - Infrared thermometer plus moisture measuring
testo 805 - Infrared thermometer with protective case
testo 805 - infrared thermometer
testo 830-T2 kit - Infrared thermometer
Set testo 830-T4 - Infrared thermometer
Set with testo 831 and testo 106 infrared thermometer
testo 926 - Temperature meter
Testo TopSafe protective case
testo 270 - Cooking oil tester
testo 104-IR - Food safety thermometer
testo 206-pH2 - pH meter
testo 810 - Infrared thermometer
testo Smart Probes AC & refrigeration test kit plus
testo 115i - Clamp thermometer operated via smartphone
testo 549i - High-pressure gauge operated via smartphone
testo 605i - Thermohygrometer operated via smartphone
testo 905-T2 - Surface thermometer with large measuring range