In Stock testo 115i - Clamp thermometer operated via smartphone Order-Nr. 0560 2115 02 New & Original On sale
New & Original
115i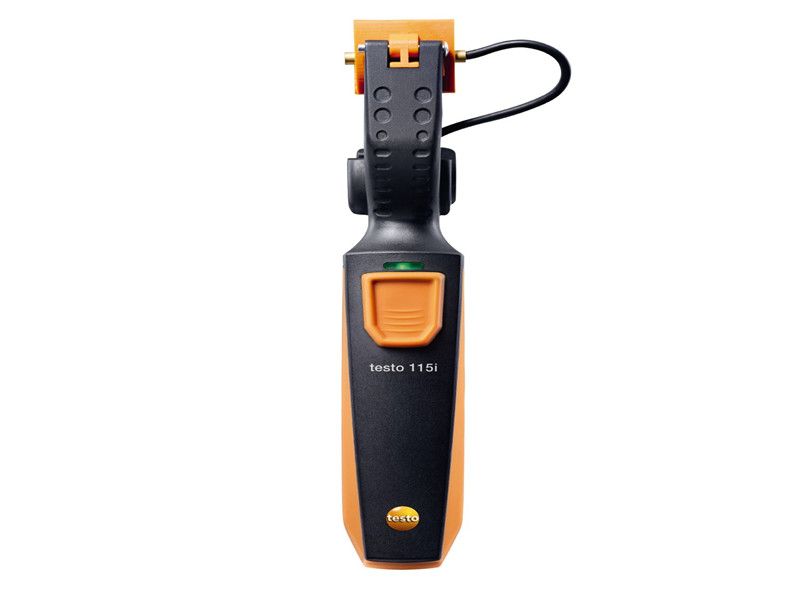 testo 115i - Clamp thermometer operated via smartphone
Order-Nr. 0560 2115 02
* Convenient temperature measurement on refrigeration, air conditioning and heating systems – thanks to wireless connection to your smartphone or tablet
* Fast identification of temperature changes by graphic progression display
* Measurement data analyzed and sent via testo Smart Probes App
* Problem-free application at measuring points that are a long distance apart thanks to Bluetooth® range up to 100 m
Combined with a smartphone or tablet, the testo 115i clamp thermometer is the ideal temperature measuring instrument for carrying out servicing and troubleshooting on refrigeration,
air conditioning and heating systems, as well as for installing them. It can also be used to measure flow and return temperatures.
Product Description
Professional measuring technology is now mobile: when it comes to measuring temperature at widely spaced measuring points in particular, the testo 115i makes things a lot easier –
thanks to wireless connection to your smartphone or tablet. When used in conjunction with the testo 549i pressure measuring instrument, individual refrigeration system parameters can also be calculated.


Measuring via the app offers lots of advantages
Measurement data is transmitted wirelessly from the clamp thermometer to the testo Smart Probes App and can be viewed conveniently on your smartphone or tablet – either as a chart or in table form.
Temperature changes are therefore immediately evident. Finally, the measurement data report can be e-mailed directly as a pdf or Excel file.
This saves you time, allowing you to further increase your efficiency.


Technical Data :
Temperature - NTC

Measuring range

-40 to +150 °C

Accuracy

±1.3 °C (-20 to +85 °C)

Resolution

0.1 °C
General technical data

Weight

127.4 g

Dimensions

183 x 90 x 30 mm

Operating temperature

-20 to +50 °C

Product-/housing material

Plastic

System requirements

requires iOS 8.3 or newer; requires Android 4.3 or newer;

requires mobile end device with Bluetooth 4.0

Product colour

black/orange

Battery type

3 AAA micro batteries

Battery life

150 h

Data transfer

Bluetooth®

Radio range

100 m

Storage temperature

-20 to +60 °C
testo 830-T4 - Infrared thermometer
testo 805 i - infrared thermometer with smartphone operation
testo 826-T2 - Infrared thermometer
testo 831 - Infrared thermometer
testo 835-T1 - Infrared thermometer
testo 835-T2 - Infrared thermometer
testo 835-H1 - Infrared thermometer plus moisture measuring
testo 805 - Infrared thermometer with protective case
testo 805 - infrared thermometer
testo 830-T2 kit - Infrared thermometer
Set testo 830-T4 - Infrared thermometer
Set with testo 831 and testo 106 infrared thermometer
testo 926 - Temperature meter
Testo TopSafe protective case
testo 270 - Cooking oil tester
testo 104-IR - Food safety thermometer
testo 206-pH2 - pH meter
testo 810 - Infrared thermometer
testo Smart Probes AC & refrigeration test kit plus
testo 115i - Clamp thermometer operated via smartphone