In Stock Set testo 830-T4 - Infrared thermometer Order-Nr. 0563 8314 Brand New very Competitive price and One year Warranty
New & Original
830-T4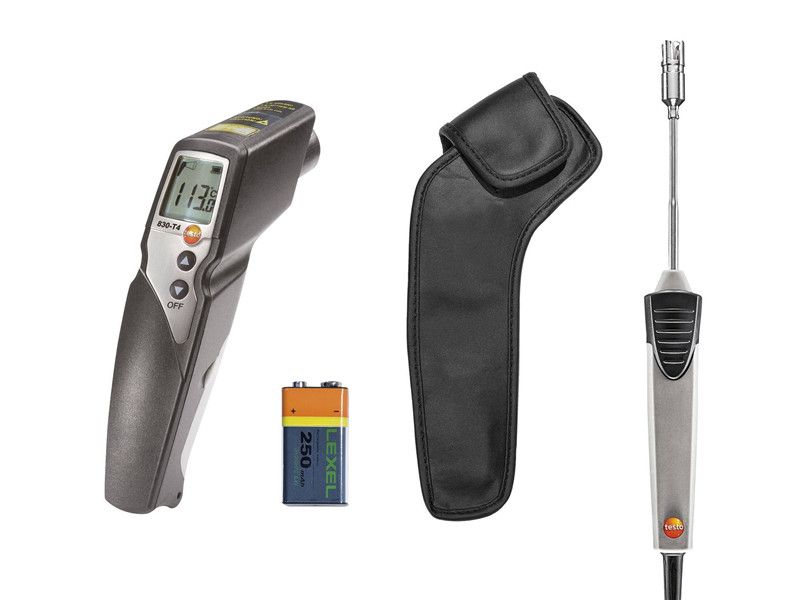 Set testo 830-T4 - Infrared thermometer
Order-Nr. 0563 8314
* 2-point laser marking for precise display of the measuring point
* 30:1 optics also enable the accurate measurement of small objects at a distance

* Easy to handle gun-style design

* Limit value control with min./max. function along with visual and acoustic signal

Versatility comes with the set: the testo 830-T4 IR thermometer, including practical protective leather sleeve and a cross-band surface probe
for precise contact measurement on different surfaces. This means you are flexibly equipped for the professional measurement of surface temperatures.
The advantages of the testo 830-T4 infrared thermometer
The measuring spot diameter is only 36 mm at a distance of 1 m to the surface, thanks to the good 30:1 optics.
This means that even temperatures of small objects can be reliably determined from a safe distance.
For example, you can comfortably measure the temperatures of heating pipes from a standing position.

The 2-point laser marking means you can always see clearly and distinctly at which location the temperature is being measured.
You can also measure very small temperature differences very accurately with the precise resolution of 0.1°C.
And the min./max. function enables you to set individual limit values. There is a visual and acoustic indication when limit values are exceeded.

Extended functions with attachable surface probe
Would you also like to carry out contact measurement in addition to non-contact IR measurement (e.g. for control purposes)
Then attach the cross-band surface probe which is included in the set to the infrared thermometer. Its sprung cross-band is also suitable for surfaces which are not flat.


Temperature - TC Type K (NiCr-Ni)

Measuring range

-50 to +500 °C

Accuracy

±0.5 °C + 0.5 % of mv

Resolution

0.1 °C

Measuring rate

1.75 s
Temperature - Infrared

Measuring range

-30 to +400 °C

Accuracy

±1.5 °C (-20 to 0 °C)

±2 °C (-30 to -20.1 °C)

±1 °C or ±1 % of mv (Remaining Range)

Resolution

0.1 °C

Measuring rate

0.5 s
General technical data

Dimensions

190 x 75 x 38 mm

Operating temperature

-20 to +50 °C

Housing

ABS

Battery type

9V block battery

Battery life

15 h

Storage temperature

-40 to +70 °C

Weight

200 g
testo 830-T4 - Infrared thermometer
testo 805 i - infrared thermometer with smartphone operation
testo 826-T2 - Infrared thermometer
testo 831 - Infrared thermometer
testo 835-T1 - Infrared thermometer
testo 835-T2 - Infrared thermometer
testo 835-H1 - Infrared thermometer plus moisture measuring
testo 805 - Infrared thermometer with protective case
testo 805 - infrared thermometer
testo 830-T2 kit - Infrared thermometer
Set testo 830-T4 - Infrared thermometer