Brand New testo 826-T2 - Infrared thermometer Order-Nr. 0563 8282 New & Original With very Competitive price
New & Original
826-T2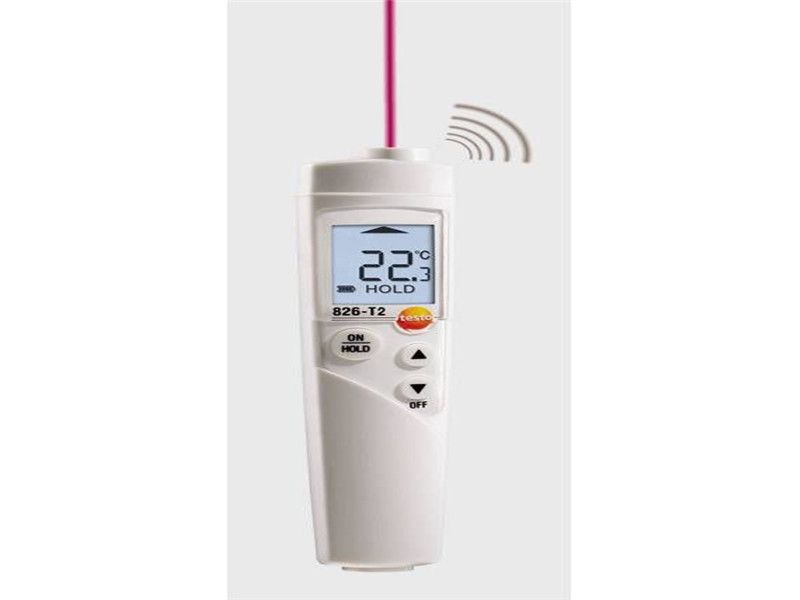 testo 826-T2 - Infrared thermometer
Order-Nr. 0563 8282
General technical data

Dimensions

148 x 34.4 x 19 mm

Operating temperature

-20 to +50 °C

Standards

EN 13485

Battery type

2 AAA micro batteries

Battery life

Approx. 20 h

Display type

LCD

Display size

one-line

Storage temperature

-40 to +70 °C

Weight

80 g
* Infrared thermometer measures the temperature without any contact and therefore in a non-destructive manner
* 6:1 optics and 1-point laser measurement spot marking
* Limit value monitoring with min./max. function, visual and acoustic alarm if limit values are exceeded
* In conjunction with the protective case TopSafe, the instrument is certified according to EN 13485 (TopSafe is included in the delivery)
Temperature checks are mandatory for ensuring the quality of foodstuffs in Incoming Goods and in food production.
Use the testo 826-T2 infrared thermometer to measure the temperature of your products and goods pallets in a non-destructive manner, all in a matter of seconds.
Product Description
Product quality assurance is essential in food production and processing. Temperature measurement is an integral part of food quality control.
With our testo 826-T2 infrared thermometer, temperature checks can be carried out quickly and easily by managers in supermarkets and in the food industry, as well as butchers and bakers.
Technical Data :
Temperature - Infrared

Measuring range

-50 to +300 °C

Accuracy

±1.5 °C (-20 to +100 °C)

±2 °C or 2 % of mv (Remaining Range)

Measuring rate

0.5 s

Infrared resolution

0.1 °C