Hot Sale Testo 885 set - Thermal imager with super-telephoto lens and one lens Order-Nr. 0563 0885 X5 100% New & Original
New & Original
Testo 885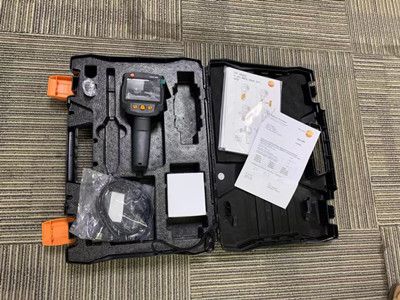 Testo 885 set - Thermal imager with super-telephoto lens and one lens
Order-Nr. 0563 0885 X5
testo 885 professional thermal imager: resolution 320 x 240 pixels, upgradable to 640 x 480 pixels with SuperResolution, thermal sensitivity < 30 mK

Two lenses included in the scope of delivery: 5° x 3.7° super-telephoto lens and one freely selectable

additional lens. Choose a 30° x 24° standard lens, 25° x 19° lens or 11° x 9° telephoto lens

Measurement functions for professional inspections: 10 measuring points, 5 min/max on area, isotherm, limit values with acoustic alarm

Also included in the kit: licence-free testo IRSoft professional software, lens protection glass, spare rechargeable battery and fast charging station
This thermography kit provides the ideal equipment for capturing images from long distances and other applications.
Because the kit includes the testo 885 professional thermal imager with super-telephoto lens (for very long distances) and an additional lens of your choice.
Product Description
This professional thermal imager with super-telephoto lens and one additional lens (free choice between standard,
25° and telephoto lens) can be used for the following measuring tasks:
Inspecting high-voltage lines: the super-telephoto lens enables you to inspect even the smallest of connections from a long, safe distance

Monitoring and checking solar plants, including locating hotspots in solar parks (to detect defective cells)

Detecting irregularities in large industrial plants (e.g. refineries)

Safe high-temperature measurement

Checks in electrical maintenance

Analysis of building shells at a glance

Carrying out detailed energy consultations
The exact fields of application depend on the choice of second lens.


More impressive details about the testo 885 thermal imager and its compatible lenses
testo 885 thermal imager:
Detector size 320 x 240 pixels = 76,800 temperature measuring points, with SuperResolution Technology able to boost image quality to 640 x 480 pixels

Process analysis package (optional): the combination of fully radiometric video and sequence

capturing in the camera enables wireless measurement and easier handling at the measuring location

Thermal sensitivity < 30 mK = so that even the smallest temperature differences can be seen

You can also choose to save thermal images as JPEGs

Lots of camera angles are feasible without any problem: thanks to the ergonomic rotating handle and the rotatable, fold-out display

Panorama image assistant: straightforward recording and evaluation of the entire outer shells of buildings rather than the tedious evaluation of individual images

SiteRecognition technology: immediate identification of similar measurement objects and automatic assignment or archiving of the thermal images

Optional high-temperature measurement up to 1,200°C: with the high-temperature option, the measuring range can be flexibly extended up to 1,200°C

FeverDetection (optional): use the assistant to check people for high body temperature in public places and in means of transport – for public health protection

Special measuring mode for detecting areas susceptible to mould: the dewpoint in the room is calculated by manually entering the ambient temperature and humidity.

The dewpoint is then compared with the surface temperature value measured by the camera. Traffic light colours (red, yellow, green) on the display indicate the risk of mould.

The optional radio humidity probe makes things easier: automatic transmission of readings means that manual input of humidity and ambient temperature is no longer needed

Voice recording possible with headset

Integrated digital camera with power LEDs: take real images to go with every thermal image – well-lit thanks to power LEDs.

This makes assignment of the thermographic images significantly easier

Auto-focus for one-handed operation and to prevent blurred images

Minimum focus distance 10 cm

Professional software testo IRSoft: allows the thermographic images to be analyzed on the PC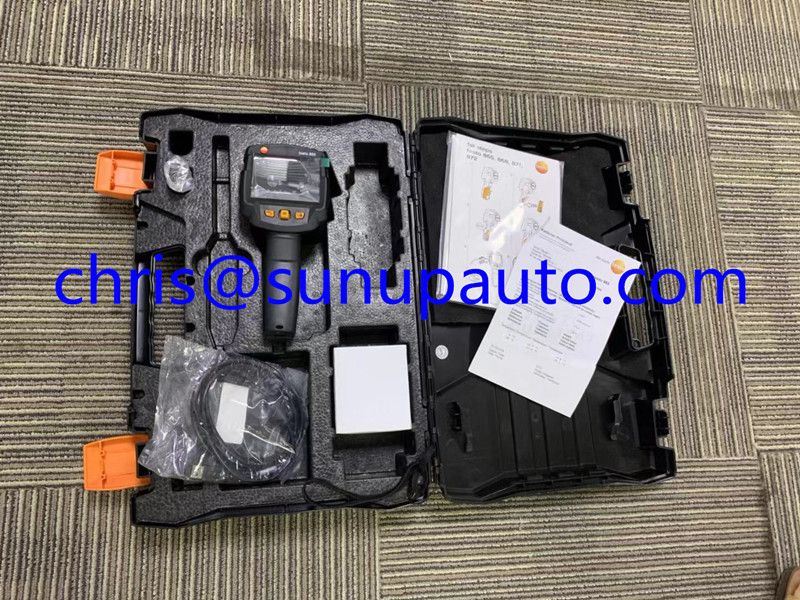 There have More items , all for 100% New & Original with very good discount , pls kindly contact with Chris directly to know more details information .
Chris Fang
Sales Engineer
Sunup (Wuhan) Import and Export Co., Ltd.
Add:7-A16,Caishen Commercial Plaza,Hankou Railway Station,Wuhan, China

Postal code:430015
M: + 86-15926376631(WhatsApp & Wechat)
Skype: live:chris_61491
Email: chris@sunupauto.com